Defy, Inc. was started in 2011 by Tyson Farris and Jimmy Allen, while the two friends were in college. They discovered that they both had a passion for filmmaking, and a desire to share that passion with the world. Back then they just called their company "Defy Productions". Since then, they have had a very slow start building their brands: they started with several short films, but once they discovered that only making short films wouldn't provide much of a living, they decided to change their target goal, and began shooting Videography for weddings.
Tyson and Jimmy have shot more than a half a dozen weddings now, and have found how much they enjoy getting to be a part of people's big days. This was also inspired by their own wedding days: in August of 2013 Tyson married a wonderful woman name Lori, and in September of 2014 Jimmy married his college sweetheart, Sara. Each of the ladies have brought their own talents to Defy, Inc: Lori brought a passion for Photography into the mix, while Sara brought her love and talent for art. These new talents took them off into ventures of doing short animations for businesses, as well as being able to add Photography to their list of available Wedding services.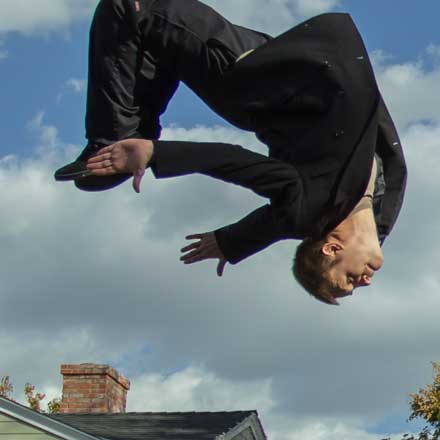 In the midst of filming other weddings, and getting married themselves, Tyson and Jimmy realized the name "Defy Productions" was not the most attractive studio name for people looking for Photo/Video services for their weddings. After a good brainstorming session amongst the 4 members, they formed another brand called "Once & Always Studios".
The success of Once & Always Studios has inspired the group to re-envision themselves into five specific brands: each brand targeting a specific type of business. The brands are: Defy Productions, Once & Always Studios, DP Media, Defy Free-running, and Defy Clothing. Click on the Brands page for further details into each.
Mission: To show God's Love to world by supporting FAMILY through our LOVE and SERVICE, by offering quality products and services that fits our customers' needs and profits those we are able to touch.
Values:
Community Service: A piece of our products and services should be put aside in order that we can positively impact the community in some way.
Customer Service: Our customers' wants and needs will be among our highest priorities.
Family: All that we do will be a means of providing for team members' families.
Integrity: All that we do will be marked by doing what is morally/ethically right and legal.
Joy & Fun: Every team member within the company should love what they do and have fun doing it.
Kingdom-Driven Stewardship: We have a financial responsibility to make profits and have a return for our investors.
Love: All that we do, we want to do out of Love: love for God, our Team Members, our customers and all those whom we come in contact with.
People over Profits: We a have responsibility to fairly take care of all of our shareholders.
Vision: We want to create a business in which God's love can be shown through our dedication to: giving the best products and services to our customers, taking care of all people both in and outside of the company, and executing all of our operations with the highest level of integrity. Our monetary goals will only be the means, not the final end, in which we are able to accomplish our goal of fully maintaining our values.
Recently our CEO Tyson Farris quit his day job: a comfortable career at the Sherwin-Williams Co., where he'd served for nearly 10 years. That experience was vital to learning how to run a business, but now his whole focus is the development of the company's brands. Each brand's supported website gives more insight into what we plan to do with that brand, but in the meantime here is a small synopsis. Please enjoy.
Defy Productions: Small Production Company specializing in Videography, Photography, and Web Design for small business. Our focus will be the Real Estate Market, Small Business Community, Contractors and Paint Sales Reps (for whom we offer our unique ability to do next-day turnaround of Color Renders).
Once and Always Studios: Our Photography, Videography, and Web Design brand for Families. Specializing in Wedding and Family services, this company is geared towards capturing a family's most memorable moments; once and always!
DP Media: An online Video Production company that will bring YouTube watchers wonderful webisodes and video blogs to follow for entertainment, education and cultural-insight purposes.
Defy Freerunning: Going back to our roots, we bring to our young viewers the exciting sport of Freerunning. Here you will see our Freerunning team do their tricks and flips to specific themes and fun up-to-date music.
Defy Clothing: This brand will mainly support the apparel out fitting of our other brands, but we hope to develop this brand into its own Clothing Company by 2016.